Synthetic Resins AQURYS & EMUPOLY
Synthetic Resins Inspired from Shellac Extraction and Purification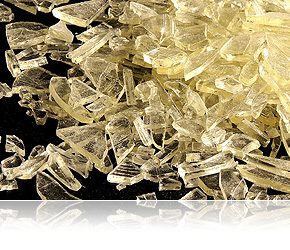 GSM entered the synthetic resin market with its styrene grafted shellac emulsion for the ink printing industry. This came about as a result of our experience of shellac resin use and application research and development.
The technology continues to advance and these days you'll find various types of chemical reactors at our plant.
Our speciality is radical polymerization. We have been developing new functional chemicals which have come about from the process of radical polymerization. Our graft polymer and fine polymer are highly valued by our customers..
From atmospheric to applied pressure
Our facility has both atmospheric pressure reactors and applied pressure reactors. That enables to conduct:
| | |
| --- | --- |
| ・ | Bulk polymerization |
| ・ | Solution polymerization |
| ・ | Suspension polymerization |
| ・ | Emulsion polymerization |
| | |
From printing ink, electronic materials, textiles, to cosmetics
Application examples
| | |
| --- | --- |
| ・ | Pigment dispersion resin for water-based printing inks |
| ・ | Emulsions and resins for water-based overcoat varnishes |
| ・ | Sizing agent for inorganic textiles |
| | |
Applications and Functions
for coating

water resistant
heat resistant
abrasion resistant
weather resistant
re-soluble
glossy
transparent
cohesive
anti-blocking
scratch resistant
solvent resistant
slip resistant
drying
chromogenic
metastatic
adhesive

for colloid

chemical stability
freeze thaw stability
high thermal stability
pigment miscibility
mechanical stability
dilution stability
fluidity
compatibility
Our brands
AQURYS
Benefits
1. Highly functional resins
| | |
| --- | --- |
| ・ | alkali soluble |
| ・ | reactive |
| ・ | water dispersion media |
| 2. Molecular structure controlling resins | |
EMUPOLY
Benefits
1. Highly functional emulsions and dispersions
| | |
| --- | --- |
| ・ | alcohol dilution stability |
| ・ | boost various properties |
| | |
| 2. Composite polymeric emulsions3. Ultra-fine polymeric dispersion | |